You never have to worry about dull blades again!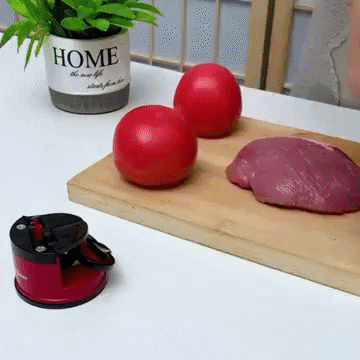 HIGHLIGHTS
✅No Dull Blades Again - This handy sharpener keeps all your favorite knives in a prime cutting condition so, you never have to worry about dull blades again!
✅Innovative Knife Sharpener - With tungsten carbide technology, it sharpens any knife with diamond precision in just a few strokes. It restores a super sharp cutting edge to a blunt knife.
✅No Accident In Sharpening - EVERSHARP™ Suction pad with a grip-lock mechanism gives you control, confidence, and safe, single-handed use as you sharpen your favorite knives.
✅Easy To Use - By pulling the knife through each slot a few times to achieve a razor-sharp new knife. It only takes 3 seconds to sharpen the knife.
✅Compact & Portable - The Knife Sharpener is compact, portable, and very convenient to use. Small enough to store anywhere.
DESCRIPTION
✅A sharp knife is more precise and can speed up the work when preparing your food. Knife Sharpener with Suction Base is an easy and convenient way to sharpen your knives. 
✅Whether you're slicing meat, dicing vegetables, or carving the Sunday Roast, a sharp blade makes cutting effortless. EVERSHARP™ Knife Sharpener restores an ultra super-sharp cutting edge to knife blades. 
✅The Suction Base allows you to secure the sharpener to any smooth, clean surface such as a countertop and easily sharpen the knife using one hand. 

The safest knife sharpener with a suction cup 
✅Whether professional quality or inexpensive, all knives need a blade tune-up now and then. Tungsten carbide technology helps extend the life of your knives and sharpens any knife with diamond precision.
✅The EVERSHARP™ knife sharpeners can sharpen kitchen knives, including chef knives, stainless steel knives, kitchen knives, camping knives, fruit knives, scissors. It is also very suitable as a gift for your family or friends who love cooking!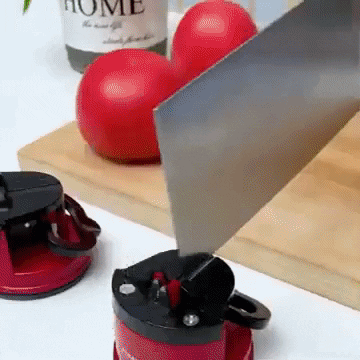 SPECIFICATION

Body Material: BPA free ABS Plastic
Metal Type: Carbon Steel
Slot Material: Tungsten Steel
Suction Pad Material: Rubber
Product Dimensions: 61*65mm
PACKAGE INCLUDES

Limited time only!
Just click

 

Add To Cart

 

to get yours now!